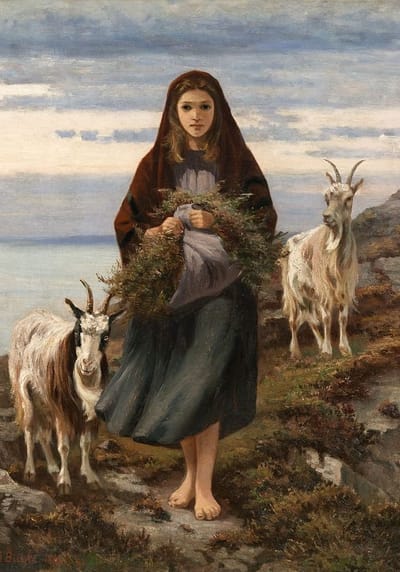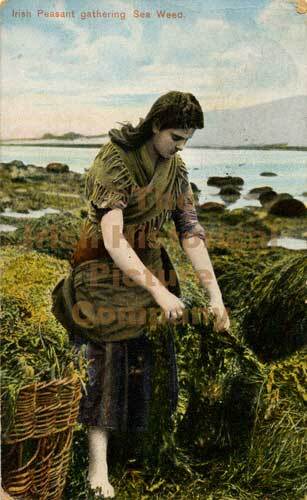 Asenath Nicholson on the Irish Peasant
Asenath Nicholson was a Protestant American widow who visited Ireland and attempted to alleviate the suffering during the famine years. In her diary, she chronicled her interaction with destitute Irish peasants, and was often amazed to find among the filth and dirt, "kindness," "benevolence," patience" and "content." One passage in particular stands out:
Next morning the tempest was still high, and, venturing upon the strand, I saw there, as at Valencia, crowds of females busied. Speaking to one, she replied:
'These stawrmy nights, ma'am, blow good luck to the poor. They wash up the say-weed, and that's why you see so many of us now at work.'
The company increased until I counted more than sixty, and busy, merry work they made of it, running with heavy loads upon their heads, dripping with wet, exultingly throwing them down, and bounding away in glee. Truly, a merry heart doth like a medicine.
'And are you not cold?'
'Oh no, ma'am, the salt say keeps us warm. The salt say never lets us take cold.'
'And how many days must you work in this way before you get a supply?'
'Aw! Sometimes not forty, but scores of days.'
'And all you have for your labour is the potato?'
'That's all, ma'am, that's all. And many of us can't get the sup of milk with 'em - nor the salt.
But we can't help it. We must be content with what the good God sends us.'

She hitched her basket over her shoulder, and in company with one older than herself, skipped upon the sand made wet with rain, and turning suddenly about, gave me a pretty specimen of Kerry dancing as practiced by the peasantry.
'The sand is too wet, ma'am, to dance right well on.' And again, shouldering her basket with a 'God speed ye on your journey,' leaped away.
I looked after them among the rocks, more with admiration for the moment than with pity; for what hearts among splendor and ease, lighter than these? And what heads and stomachs, faring sumptuously every day, freer from aches than theirs with the potato and the sup of milk?
This woman who danced before me was more than fifty, and I do not believe that the daughter of Herodias herself was more graceful in her movements, more beautiful in complexion or symmetry, than was this dark-haired matron of the mountains of Kerry."